St Nicholas Church, Ash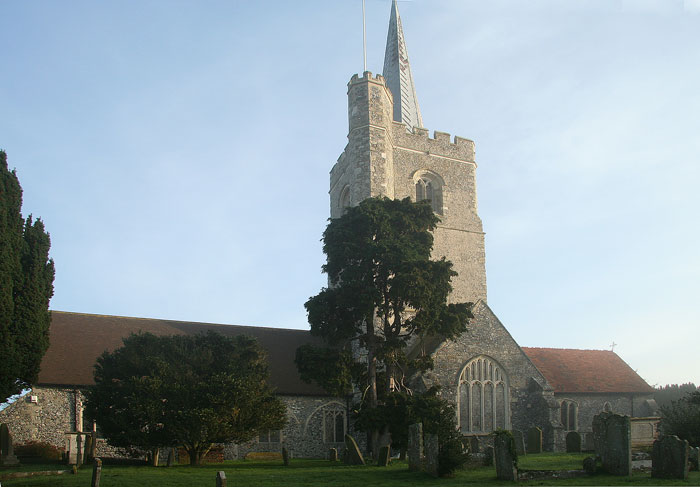 Directory Page Home Page Further Images
Photograph taken in the early morning mist, showing the south side, from the churchyard. St Nicholas is set in its own extensive churchyard, in the centre of the village. Its substantial tower, topped by a needle spire, is a landmark from some distance, and it forms one of three in the area, the others being St Mary the Virgin, Wingham, and St Mary the Virgin, Minster.
St Nicholas is built of Stone rubble and flint, with stone dressings. It is roofed with clay tiles, and the spire is clad with lead. It is a cruciform church, comprising, along the central axis, a nave, then a crossing, and a chancel. To the north and south of the crossing are transepts, and to trhe north of the nave is a north aisle. Most of this structure is 13th century, however, the remains of a north-west tower are early 12th century. To the north of the chancel is the Molland Chapel, formerly known as the Chancel of St Nicholas (mid 14th century). The entrance porch on the north side into the aisle is Victorian, by William Butterfield, who carried out other restoration work in the mid 19th century. The tower is 15th century. (See Tower, R J).
In the tower is a peel of ten bells, the tenor weight being over 21cwt.
Significant features include the monuments and brasses